Travel distances in Alaska are vast as Alaska is the largest state (by far) in the U.S., equivalent to the land mass of 20% of the "lower 48" states in total. Alaska measures 1420 miles (north to south) and 2500 miles (east to west).
With far fewer roads relative to its total size (640 square miles of land per mile of paved road), traveling around Alaska often necessitates combining road travel with air, cruise and rail travel, enriching your travel experience in Alaska beyond compare.
To give you some specifics, to travel from Anchorage to Denali it takes approx. 5 hours driving time or 8 hours by rail. To travel from Anchorage to Seward (gateway to Kenai Fjords National Park) it takes approx. 2.5 hour driving time or 4 hours by rail.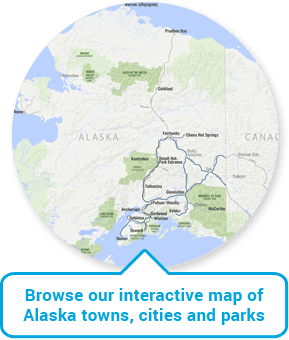 Alaska Driving Distances and Time Necessary to Travel Between Cities
[Miles/Time in Hours]
| | | | | | | | | | |
| --- | --- | --- | --- | --- | --- | --- | --- | --- | --- |
| | Anchorage | Chitina  | Denali | Fairbanks | Girdwood | Homer | Seward | Talkeetna | Valdez |
| | – | 250 / 4.5 | 240 / 5 | 360 / 6.5 | 40 / 1 | 225 / 4.25 | 130 / 2.75 | 115 / 2.5 | 300 / 5.5 |
| | 250 / 4.5 | – | 415 / 7.75 | 310 / 7 | 285 / 5.5 | 470 / 8.75 | 375 / 7.25 | 290 / 6 | 120 / 2.5 |
| | 240 / 5 | 415 / 7.75 | – | 125 / 2.5 | 275 / 5 | 460 / 8.25 | 365 / 6.75 | 155 / 3.25 | 465 / 8.5 |
| | 360 / 6.5 | 310 / 7 | 125 / 2.5 | – | 395 / 7.25 | 580 / 10.5 | 485 / 9 | 275 / 5.25 | 365 / 7 |
| | 40 / 1 | 285 / 5.5 | 275 / 5 | 395 / 7.25 | – | 185 / 2.5 | 90 / 2 | 150 / 3 | 340 / 6 |
| | 225 / 4.25 | 470 / 8.75 | 460 / 8.25 | 580 / 10.5 | 185 / 2.5 | – | 170 / 3.5 | 335 / 6.5 | 520 / 10 |
| | 130 / 2.75 | 375 / 7.25 | 365 / 6.75 | 485 / 9 | 90 / 2 | 170 / 3.5 | – | 240 / 5 | 425 / 8 |
| | 115 / 2.5 | 290 / 6 | 155 / 3.25 | 275 / 5.25 | 150 / 3 | 335 / 6.5 | 240 / 5 | – | 340 / 6.5 |
| | 300 / 5.5 | 120 / 2.5 | 465 / 8.5 | 365 / 7 | 340 / 6 | 520 / 10 | 425 / 8 | 340 / 6.5 | – |
(1) Chitina – Gateway to Wrangell-St. Elias National Park & Preserve
(2) Denali – Denali National Park Entrance
(3) Seward – Gateway to Kenai Fjords National Park
---